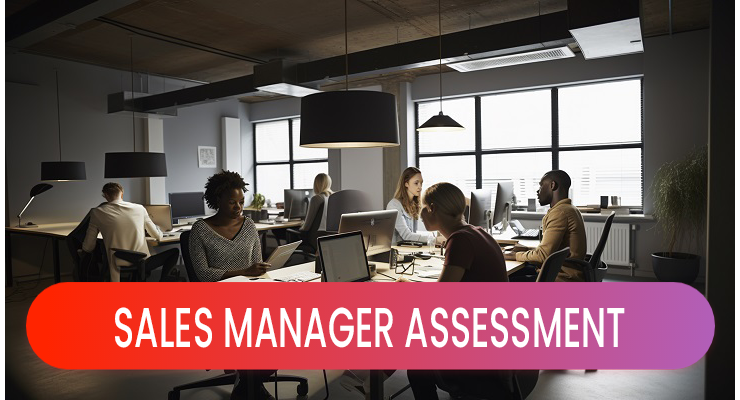 Sales Manager- Hiring

An assessment for a Sales Manager role is a crucial step in the hiring process to ensure that the candidate possesses the necessary skills, traits, and competencies to effectively lead and manage a sales team. This assessment aims to evaluate the candidate's suitability for the role and predict their potential for success. This test covers broadly the following 12 dimensions:
1. Leadership Skills: Evaluates the candidate's leadership style, ability to inspire and motivate, and capacity to lead by example.
2. Team Management: Tests their skills in managing, coaching, and developing a sales team for optimal performance.
3. Communication: Gauges the candidate's communication skills, including their ability to convey complex information, actively listen, and provide constructive feedback.
4. Problem-Solving and Decision-Making: Candidates are presented with scenarios that require quick and effective decision-making and problem-solving skills.
5. Strategic Thinking: Assesses the candidate's ability to analyze data, set goals, develop sales strategies, and adapt to changing market conditions.
6. Sales Process Knowledge: The candidate's understanding of the sales process, sales methodologies, and techniques is tested to ensure they can guide the team effectively.
7. Customer Relationship Management: Evaluate a candidate's ability to build and maintain strong customer relationships, fostering repeat business and customer loyalty.
8. Conflict Resolution: Candidates are assessed on their ability to handle conflicts and challenges within the team and develop solutions.
9. Time Management: Tests a candidate's organizational skills and ability to prioritise tasks to meet deadlines.
10. Motivation and Goal Setting: Candidates are evaluated on their ability to set and communicate goals, monitor progress, and keep the team motivated.
11. Adaptability: Assessments gauge a candidate's flexibility and adaptability in responding to changes in the market, industry, or organizational priorities.
12. Ethical Behavior: The assessment assesses a candidate's ethical decision-making and commitment to conducting business with integrity.

Sales Manager Hiring

45 minutes

Mid Management Sales Professionals

English

Usable report with insights
Fits your requirement