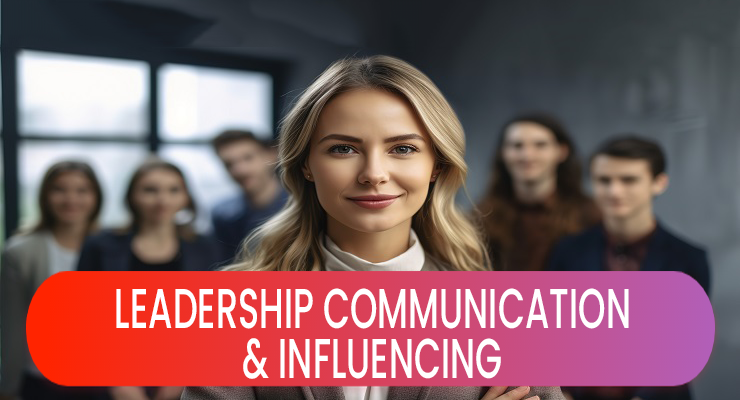 Leadership Communication & Influencing

The key learning objectives of the program are to make participants understand and practice how
Clear communication aligns employees with strategic goals

Difficult conversation can be disastrous for the organization

Influence with and without authority can be used for achieving win-win results
Participants will appreciate why clarity while communicating goals is critical

Participants will understand how to build trust, encourage transparency and improve engagement

Participants can better contribute towards creating a collaborative and inclusive workplace culture

2 Days
Managers in Mid and Senior Management roles

Simulations, Videos, Case Study, Classroom Lecture (Online)

Module 1: Introduction to Leadership Communication & Influencing
Understanding the Importance of Communication and Influencing in Leadership.
Role of Communication and Influence in Achieving Organisational Goals.
Overview of Key Concepts and Principles.
Module 2: Effective Communication Foundations
Elements of Effective Communication: Verbal, Nonverbal, and Written.
Active Listening and Empathetic Communication.
Clear and Concise Message Delivery.
Module 3: Tailoring Communication to Different Audiences
Understanding Different Communication Styles.
Adapting Communication for Different Stakeholders: Teams, Peers, Executives, Clients.
Overcoming Communication Barriers and Misunderstandings.
Module 4: Persuasive Communication Techniques
Building Credibility and Trust through Communication.
Framing Messages for Impact: Emotional and Logical Appeals.
Storytelling as a Powerful Persuasion Tool.
Module 5: Influencing Strategies
Principles of Effective Influence.
Building Relationships for Effective Influence.
Using Social Proof, Authority, and Reciprocity.
Module 6: Conflict Resolution and Difficult Conversations
Approaches to Resolving Conflicts through Communication.
Handling Difficult Conversations with Empathy and Diplomacy.
Turning Conflict into Positive Outcomes.
Module 7: Leading with Authenticity
Authentic Leadership and its Role in Communication and Influence.
Aligning Values with Communication: Fostering Trust and Credibility.
Personal Branding and Communication Style.
Module 8: Communication and Influence in Team Leadership
Communicating Vision, Goals, and Expectations.
Motivating and Inspiring Teams through Effective Communication.
Giving Constructive Feedback and Recognition.
Module 9: Leading Change through Communication
Communicating Change: Addressing Resistance and Navigating Uncertainty.
Creating a Communication Plan for Change Initiatives.
Overcoming Resistance with Persuasive Messaging.
Module 10: Communication Technology and Digital Leadership
Leveraging Digital Tools for Effective Communication.
Virtual Leadership: Effective Communication in Remote and Virtual Environments.
Balancing Digital Communication with Personal Connection.
Module 11: Public Speaking and Presentation Skills
Principles of Compelling Public Speaking.
Structuring Engaging Presentations.
Overcoming Stage Fright and Nervousness.
Module 12: Practicing Leadership Communication & Influencing
Role-Playing and Simulations: Applying Communication and Influence Strategies.
Group Discussions and Feedback Sessions.
Real-world Application: Developing a Communication and Influence Action Plan.
Activities and Learning Methods:
Interactive workshops and role-playing exercises.
Case studies and real-world examples.
Group discussions and peer feedback.
Presentation practice and coaching.
Video analysis and self-assessment.
Guest speakers and leadership communication stories.
Reflection and journaling exercises.
Action planning and goal setting.
This content outline aims to provide a comprehensive training program that helps participants develop effective communication skills, persuasive techniques, and strategies for influencing others in a leadership context. The program encourages experiential learning, practical application, and continuous improvement in leadership communication and influence.

Participants will use simulations of at least 2 hours duration. Leadership simulations around importance of clarity in communication, sharing of information and goal alignment. They will also use simulations depicting real life transactions.

Jayesh Dhareshwar, SFL:
Wonderful program with a good insight on the types of Communications, Conflicts, Disputes, Power & Influencing.