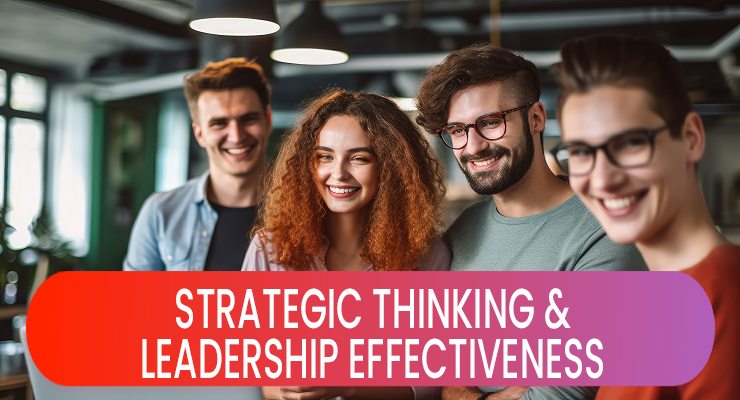 Strategic Thinking & Leadership Effectiveness

The key learning objectives of the program are
Appreciate what is strategic thinking

Understand how to structure ambiguity

Shows flexibility in behaviour

Ability to connect dots

2 Days
Managers in Mid and Senior Management roles

Simulations, Videos, Case Study, Classroom Lecture (Online)

What is Strategic Thinking Skills linked to Strategic Thinking
Problem Solving & Decision-making

Critical thinking

Analytical Skill

Creativity
Improving Strategic Thinking Ability
Developing Strategic Thinking
-Forecast the future and learn from the past- Understanding trends
-How to create an informed strategy
Cultivating A Strategic Mindset
-Reflect & Plan
-Uncover Biases
-Access Quality Information
-Practice Questioning
-Think Consequences
Strategy Planning Frameworks
Strategy Development Frameworks

Strategy Execution Frameworks
Leadership Effectiveness & Strategic Thinking
Strategic thinking with your team

Measuring success against goals
Strategic thinking as an ongoing process
Enhancing Leadership Effectiveness Multi-fold
Strategic Thinking

Achievement Orientation

Resilience

SIMULATIONS: Virality

Biswajit Raha Daikin India- This is very interesting where I have to respond quickly which actually enables to realize actual patterns which helps to understand myself.
Krishna Ganeriwal Murugappa Group- It was really very insightful and useful program, very interactive.
S. Hari Krishnan TFL Quinn India- Excellent tool, to analyze the usefulness per rupee spent. This is the major challenge as budget is always a limitation in organization. Good feedback for teams as well, to discuss and then come with a plan.